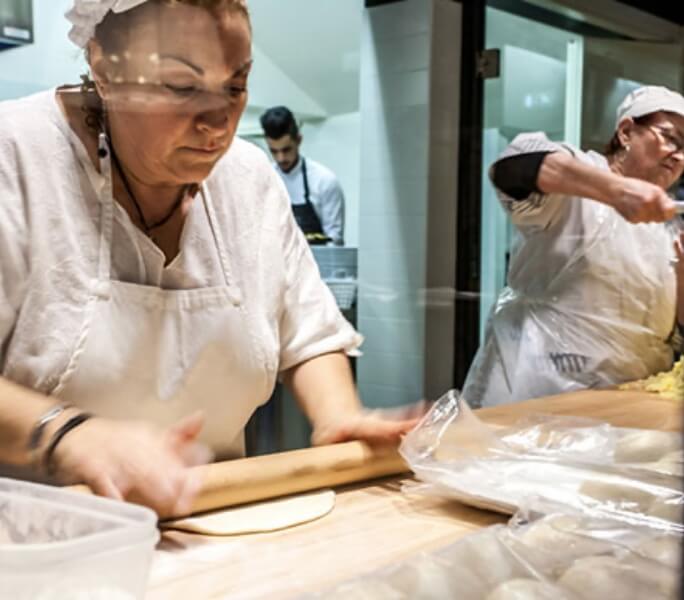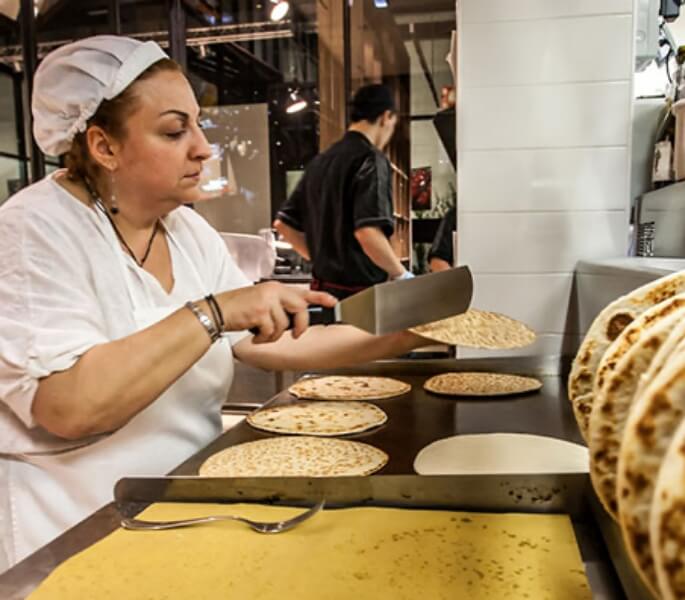 The origins of the Piadina or Piada are thousands of years old and humble. Over the centuries the Piadina has been considered a simpler alternative to bread during times when its supply was sparse. It could be made with chestnut flour and bits of pork crackling and grilled. Or it could be cooked in the fireplace, in which case it would be made with white flour or a mixture of flours (corn, spelt, barley, oats, chickpeas, etc.).
After the second world war, the shape and taste of the Piadina was uniformed and became a classic recipe in all kitchens across Romagna, where it's called Piada, or Piè, in the local dialect.
The recipe that prevailed over the last decades includes the following ingredients: white flour, salt, bicarbonate of soda, melted lard, water, and in some cases milk. The dough is prepared mixing the ingredients on a board and shaping it into small balls, Panett, which are covered with a tea towel and left to rest for 30 minutes. Each single ball is then quickly kneaded again and rolled out with a rolling pin to obtain 15cm disks 3mm thick.
But there is another ingredient, even more important than the others, that only a good home cook, or Piada maker ("Piadarola") can add: the manual skill, the combination of proud ability, technique and movement of warm, gentle and fast hands that tame the dough. The ability of a good cook doesn't end with the dough, instead it continues carefully supervising the cooking process, using a fork to rotate the fine disk every now and then. The holes made by the fork will look almost like a decoration and prevent bubbles from forming on the surface.
If you ask us what is the best way of enjoying it, we would recommend eating it very hot, because cold it can be more difficult too digest and not pair well with the filling you have chosen.
Depending on where you go in Romagna, the name Piadina has many variants (Pieda, Piè, Pida, Piada, Piadina etc.) and a distance of just a few kilometers can also make a difference on the size, thickness, taste and texture of the Piadina.
THE RECIPE FOR THE PIADINA ROMAGNOLA