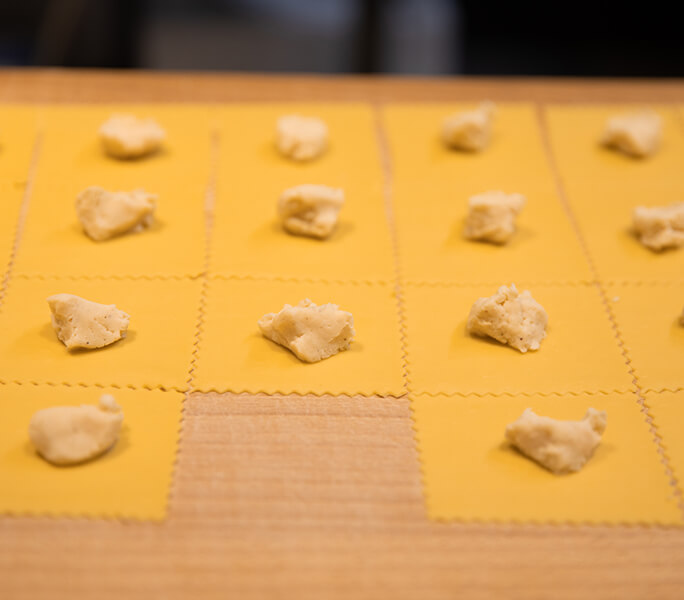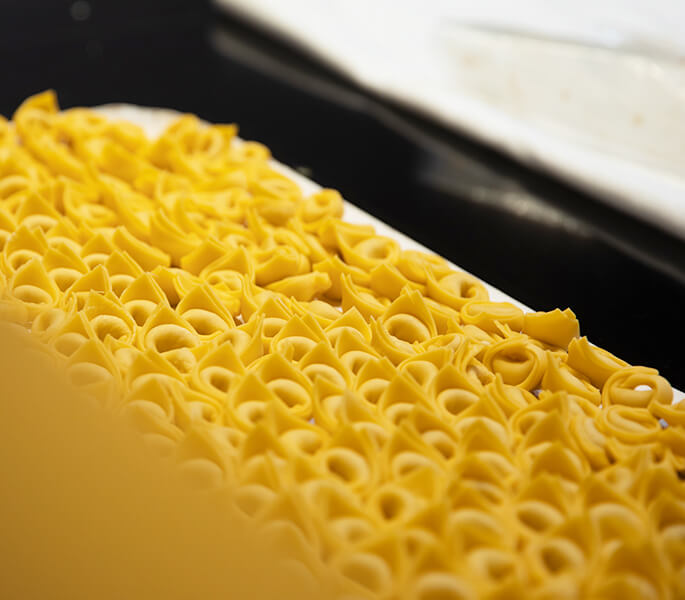 Cappelletti or caplet, are considered the most sumptuous and noble dish. Once the were considered a symbol of affluence, wealth, and opulence, and "Cappelletti on the table for a year" was one of the warmest and most appreciated wishes one could convey for the new year.
In Romagna there are essentially two types of Cappelletti, one filled only with cheese, the other with cheese and meat. In the province of Ravenna (Ravenna, Russi, Cotignola, Lugo, Bagnacavallo, Fusignano and Alfonsine), Cappelletti are filled only with cheese. Naturally, in the surrounding areas the two types of Cappelletti live peacefully side by side according to the different family traditions.
Firstly, the pasta dough is prepared on a board combining flour and eggs (as many as the flour can absorb), adding a small amount of water. This is when the ability of the cook comes into play, kneading with energy and rolling out the dough, until the pasta sheet is fine, soft, with no cracks, and with a slightly rough surface. Using a dented pasta cutter wheel, the pasta sheet is cut into 4-6cm squares. Meanwhile, the filling is prepared in a bowl combining together ricotta, grated parmigiano, eggs, a pinch of freshly ground nutmeg and pepper, and salt. Some add a fine mince of pan roasted white meat, such as chicken or turkey breast, pork loin, good quality sausage, or in the areas closer to the Emilia region, mortadella. With a spoon the filling is then put on each square of pasta and with quick skillful movements the Cappelletti are sealed as required by tradition: each pasta square with its filling on top is folded in half making two opposite corners meet. Then, once the two extremities have been joined together, a gentle circular movement squashes the Cappelletto into shape.
Traditionally, Cappelletti were enjoyed during the Christmas period as a main dish at lunchtime. It was the most anticipated moment of the year, because as a rich dish, it was prepared and enjoyed only on a few special occasions. Nevertheless, not even the poorest families would go without Cappelletti for their Christmas dinner. Cappelletti were usually prepared on Christmas eve with the involvement of all the women in the family and often even the children helped to wrap the filling in the pasta.
In Romagna, the perfect way of eating Cappelletti is in hot fragrant broth. The Cappelletti are left in a tureen for approximately 15 minutes and then served with plenty of grated parmigiano. If you prefer meaty sauce to broth, you can enjoy Capelletti with classic ragù sauce, a dusting of grated parmigiano, and a dollop of butter.
THE RECIPE FOR CAPPELLETTI FROM ROMAGNA